Honda Auto Service Coupons in Klamath Falls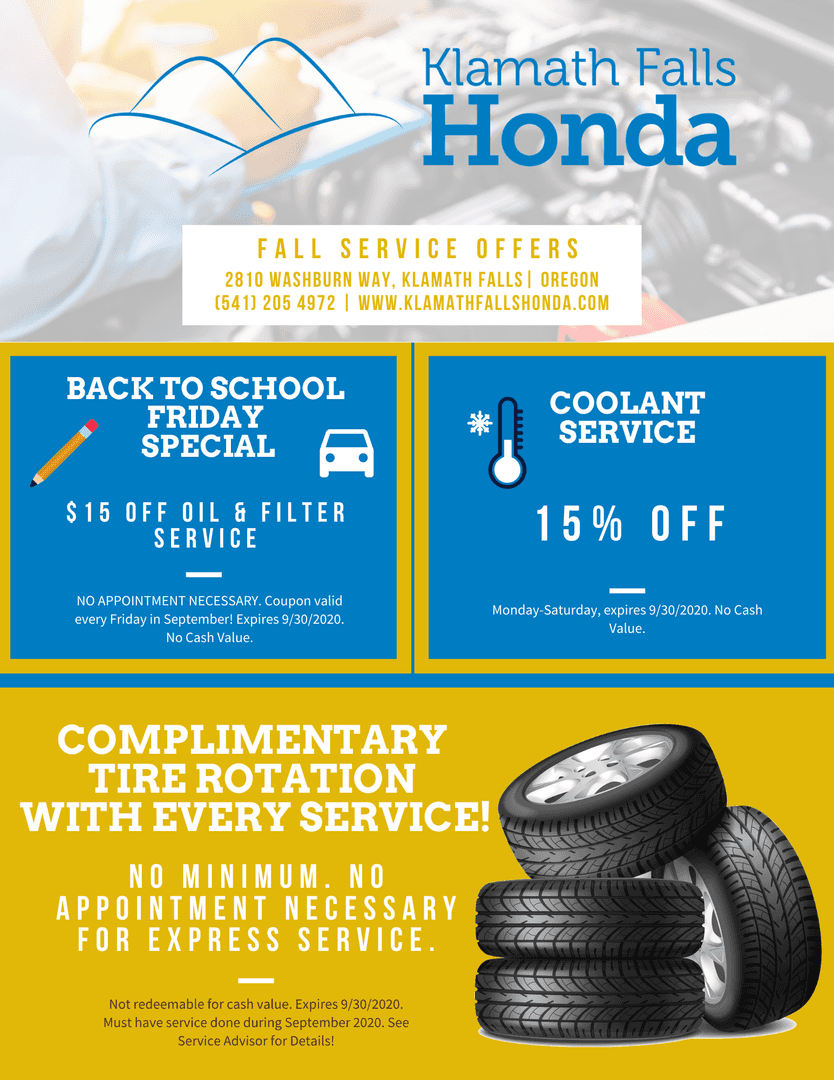 Klamath Falls Honda's Service Coupons: Maintenance Made Affordable
It's common knowledge that your Honda needs routine maintenance like oil changes and brake repair, but who wants to spend more than necessary? Here at Klamath Falls Honda, we offer a rotating selection of Honda dealer coupons, including Honda oil change coupons, so you don't have to dread getting your car serviced. Whether your vehicle needs tire alignments, brake service, or major repairs, you can place your confidence in the experienced technicians at the Klamath Falls Honda service department. Explore our Honda service coupons, and continue on to discover the importance of routine maintenance with our team!
Why You Shouldn't Neglect Car Maintenance
When you get a service quote from other shops in town, it can be frustrating to see the bloated prices they charge. Here at Klamath Falls Honda, we believe that no one should ever delay service due to cost. We offer rotating Honda dealer coupons to help all of our customers save when it comes to necessary maintenance. Offering competitive prices on all of our models and services is simply in our DNA. This mission of affordability allows our customers to travel with peace of mind while avoiding the array of issues that can arise when service is delayed. Reasons to take advantage of our Honda service coupons for expeditious maintenance include:
Safety: Operating a vehicle that is in disrepair is not only frustrating, but dangerous as well. A simple oil change that is delayed for too long can result in excessive engine wear, over-heating, and expensive damage.
Protecting your investment: Securing the keys to a new ride requires thoughtful planning and financial prudence. Protecting your investment by keeping up with service tasks is the best way to retain value.
Fuel-efficiency: If maintenance is delayed indefinitely, you may find yourself visiting the gas station for a fill-up more frequently. If your vehicle's components aren't working together seamlessly, the designed output and efficiency is voided.
Service to Expect at Klamath Falls Honda
When you turn to Klamath Falls Honda, you get expert service for less. Our team of trained technicians can get the job done right the first time. We make sure every customer leaves our garage with confidence knowing their vehicle is in pristine condition. When you indulge with our Honda service coupons, you can save on a bevy of services, like:
Oil changes
Tire rotations
Wheel alignments
Diagnostics
Fluid replacements
Brake repairs
Vehicle inspections
and more!
If you have questions about the components being used to repair your ride, get in touch with our parts team! They can explain to you our commitment to genuine parts and the benefits of using OEM equipment.
Work With us in Klamath Falls for Complete Car Care
Here at Klamath Falls Honda, we firmly believe that every Oretech driver should have access to a safe and reliable vehicle. We know that it can be tempting to delay service due to the costs associated with maintenance at other shops around Altamont. That is why we work tirelessly to offer competitive daily prices and a wide selection of Honda dealer coupons for added savings. After you've taken the time to browse our Honda service coupons online, schedule service today and make your way from Pine Grove to Klamath Falls Honda!