Honda Civic Type R near Medford OR: Redesigned for the Future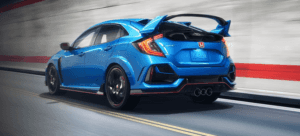 The Honda Civic Type R near Medford OR is redesigned with an explosion of style and performance. It's built to cause a ruckus with its enhanced steering and braking performance. This sophisticated racer style car delivers
Drivers will notice an improved steering wheel wrapped in Alcantara faux suede along with an improved shifter and updated knob. Improvements to the brakes include new two-piece rotors and improved brake pads allowing for efficient stopping at higher speeds. The suspension was also revamped with stiffer rear bushings for improved grip along with superior quality dampers delivering more precise handling and relaxing and comfortable ride. The 2020 Honda Civic Type R 4-door Hatchback delivers optimal torque, corners as if it is on a track, and without hesitation in an instant blast into straightaways. During testing the Civic Type R was clocked at 5.4 seconds from 0-60 miles per hour.
Drivers have a new exterior paint color exclusive to the 2020 new Honda Civic Type R Hatchback called Boost Blue replacing Aegean Blue. It is a bold and vibrant blue that will seize the attention of bystanders. Honda added a larger grille designed to improved airflow to the turbocharged 306-horsepower engine with VTEC valvetrain.
Drivers also benefit from standard innovative LED turn signals on side mirrors. The Honda Civic Type R near Medford OR offers Active Sound Control that adjusts sound in concert based on driving mode selection such as Comfort, Sport, and +R. The suspension firmness, steering, and throttle response vary based on which driving mode is selected. The Honda Civic Type R Hatchback will provide an exhilarating mountain ride, will be quick and responsive on the racetrack, and deliver a sophisticated daily commute.
The interior is in your face style, brazenly designed with spirited red accents, endless comfort racing-style seats, and ample passenger seating. The Type R comes standard with touchscreen infotainment system integrated navigation, Apple CarPlay, Android Auto, and a fierce stereo system.
Honda Civic Type R near Medford OR Comes standard With Honda Sensing
An important update to the 2020 Honda Civic Type R Hatchback that drivers will be thrilled to take advantage of is Honda Sensing. Honda Sensing is a collection of driver safety and driver-assist technologies. Honda Sensing features included the new 2020 Honda Civic Type R near Medford OR are:
Collision Mitigation Braking System that applies brakes to avoid impact.
Road Departure Mitigation System adjusts steering/braking if the driver crosses out their lane.
Adaptive Cruise Control maintains preset speed and distance from the vehicle ahead of you.
Lane Keeping Assist System can adjust steering to keep you in your lane.
Traffic Sign Recognition notifies the driver of posted speed limits.
Visit Klamath Falls Honda for more information on the 2020 Honda Civic Type R 4-door Hatchback. It is expected to be available in the early spring. Its valiant exterior, racy interior, and aggressive engine performance, waiting for drivers that can handle the untamed power that is roaring to get up and go. The 2020 Honda Civic Type R Hatchback doesn't know what subtle is!