2016 Honda Accord EX-L
There's plenty of features to draw Malin and Keno drivers to the 2016 Honda Accord EX-L trim level. From leather seating to an upgraded sound system, this is a model that has been designed to offer the finer things in life, and it's available now from Klamath Falls Honda. Here's a quick overview of what you can expect from your new EX-L.
Power and Efficiency
The EX-L is the final trim level of the 2016 Honda Accord to fit a 2.4L four-cylinder engine as standard instead of a 3.5L V6, so Malin and Keno drivers often pick it out when they want to combine the luxury fittings of a high-end trim with the efficiency ratings of the four-cylinder engine:
Power: The four-cylinder engine still offers a competitive output of 185 hp and 181 lb-ft of torque.
Efficiency: The Accord EX-L comes with a continuously variable transmission (CVT), which delivers 27 mpg in the city and 37 mpg on the highway.*
Comfort and Styling
The crown jewel of the 2016 Honda Accord EX-L is undoubtedly its upper-class cabin, which offers the following amenities as standard: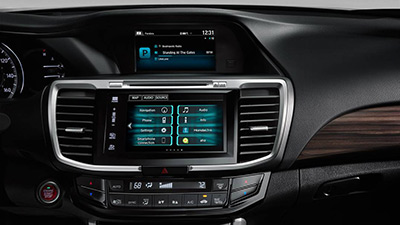 10-Way Power Driver's Seat: You'll be able to adjust the driver's seat along 10 planes of motion, use power lumbar support to sooth your back, and save two settings within the standard memory functions.
Leather-Trimmed Interior: All seats within the 2016 Accord EX-L come trimmed in supple, indulgent leather — just what you want to sink into after a long day at work. Even the steering wheel is wrapped in leather.
Heated Front Seats: It can get a little chilly during the winter months, but Accord EX-L drivers and their front-passengers will be able to stay toasty-warm all year round.
Enviable Interior Technology
The 2016 Honda Accord EX-L is defined by its well-fitted cabin, and that craftsmanship is complemented by a number of features added to improve your drive. Features the Malin and Keno drivers will enjoy include:
Premium Sound System: With 360 watts of power, 7 speakers, and a high-end subwoofer to call upon, this premium audio system delivers concert-level sound for a richly immersive driving soundtrack.
Auto-Dimming Rearview Mirror: Nobody likes having the glare of approaching headlights hitting their eyes. Luckily, the Accord EX-L's innovative rearview mirror will automatically change its tint to prevent that from happening.
The 2016 Honda Accord EX-L is a Luxurious Vehicle With Impressive Features
It isn't hard to see why so many Malin and Keno drivers are attracted to the 2016 Honda Accord EX-L. You'll find yours in the showroom at Klamath Falls Honda, so don't hesitate to drop by today to take a closer look, find out more, or arrange a test-drive.