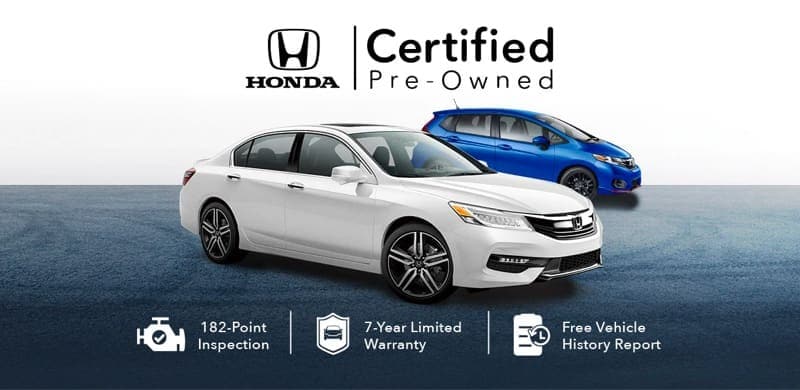 Certified Pre-Owned
Nothing compares to the quality of a Honda. No other program comes close.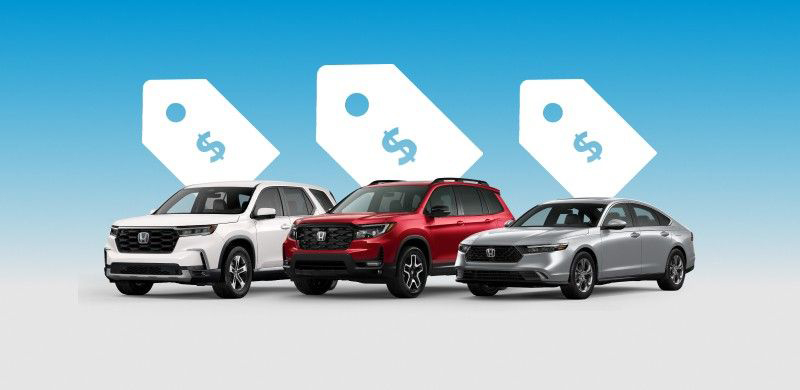 Current Offers
See this month's featured current offers going on now on new Honda vehicles.
Our Reviews
I had a terrific experience purchasing my Outback from Tim at Klamath Falls Honda. I described to him my dream car and he found it! Tim has taken the time to help me with all the technology that is a part of this vehicle and made sure that I am comfortable with my purchase. I would definitely recommend him! Thank you for having that comfortable and not corporate feel.
Purchased mostly online - Juan was so helpful with details on the car & made us feel secure with driving that distance for that truck. Once there, things went smoothly and quickly. I would highly recommend this dealership.
I have purchased at least 7 hondas over the last 30 years. Have always had awesome customer service. all had over 200,000 miles one almost 400,000 miles when I traded them in or sold them.
Just wanna say we had the best customer service at cascade Honda my husband went in talked with david. And he treated him with the most respect and we didn't get into outrageous payments and David treated us as if we were buying a brand new top of line car made sure we were happy and even called to check on things great customer service and would defiantly would go back
The best service I've had purchasing a car by far. Fast and friendly professionals who do their best to meet your needs. Looking forward to purchasing another vehicle with them in the near future and would definitely recommend them to family/friends. This couldn't have come at a better time!
We bought a new Honda CRV from Stuart Nelson. He was very professional, accommodating, and friendly. He worked hard to get us the car we wanted at a very fair price. I hate the games and high pressure that you can get from some dealers/sales. I never once felt that from Stuart, the gentleman at the finance desk, or Spencer Hammond in finance. An overall A+ expierience- thank you!
We're very pleased with our purchase! Buying a used car is sometimes a challenge. Being able to trust the company and salesperson that you're dealing with is very important. They offered a comfortable price and addressed the issues that arose, promptly and with professionalism. We'll be back for sure!
Thanks for for the great experience. David was a joy to work with, no regrets here. We will definitely be back for our next purchase!
I would always dread car shopping until I experienced it with klamath Falls Honda! Dave, you are one of the most relatable, understanding and down to earth guys I know! I appreciate your honesty and caring personality. Chris Armstrong, you were a pleasure to work with! Thanks for putting up with me! Also, thank you to the finance guys, Chris and Spencer, for being so helpful and patient with me! Holly Morrow
David G. Was very helpful from the beginning. I started looking at vehicles a couple month before my purchase. He was helpful even though I made it clear multiple time that I'm not buying at the moment. He asked if he could stay in contact and how often or when is the best for me. I received a phone call with him just checking in to see if it was time to buy and if not he left me alone, not pushing anything on me. When it was time to buy, we looked at a couple models and found the one I wanted and it was smooth sailing from there. I typically do not like car salesmen like most people but he does the job correctly and looks out for you.
1. Professional 2. Informative 3. Humble 4. Best pricing 5. Great selection At 58 years young ;) ,this was not my first dealer to buy from. I am retired now & even sold new & used cars in my past. I learned much when I did that type of work & also was taught how they literally slammed or "pounded" customers with a vehicle. That company was only about making $$$ , not repeat customers so it's no wonder they closed down. I did not like how customers were treated in anyway and left that job beforehand. At age nine I started working with my father whom had much contact every day with his retail customers. My dad was HONEST , let customers know what he had BUT never pushed anything or took more money than his set pricing . He was very kind to his loyal customers and loved what he did. I still strive to be like he was and know that is why he did very well in his 44 years of service to people. At Klamath Falls Honda dealership, I felt they treated me as if I were family and it's no wonder that they have been so successful year after year. I strongly recommend this dealership it's employees and leadership is nothing less than what I was taught growing up with my dad, is to treat people the same way you want to be treated. Know your product, be professional and they will come back and refer others. Thank you Honda of Klamath Falls :)
I had a really great experience buying my new Honda from David at Klamath Falls Honda. It was fast, fair and painless! I would absolutely shop here again.
This was my first new car buying experience and I was a bit hesitant to spend that much on a vehicle. Dave and Spencer where both very helpful and patient with me during our buying experience. Never one time did I ever feel pressured or uncomfortable. Dave did a great job in following up with text without the pressure. I absolutely love our new F 250 superduty Ford and definitely could not have gotten a better value anywhere else, we tried. The customer service and professionalism of Klamath Falls Honda could not be beat. Thank you Dave and Spencer, sincerely, Bob and Cyndi Dailey
Dave is very trustworthy & makes the experience fun. This is our 2nd vehicle we have bought through him, our 1st being 10 years ago & its still going strong!
Kyle and the Klamath Honda team took great care of us. Having done our research, we found the team to be very knowledgeable and patient as Kyle helped us find the perfect vehicle for us from their impressive inventory. We did not feel rushed or pressured at any point. Kyle, we want to thank you for a great experience!
I had a very good experience at Honda of Klamath Falls! David was very professional and curtious to my needs and knew exactly what I needed. I bought a car with in 2 hours! I trusted his judgement and was very impressed to see they have a variety of cars for sale. Ask for David if you need a car and he will be very helpful and make you feel like family!
He made this a quick and easy process for to get a new car with only being 18 and having non existent credit. I'm very thankful to have gotten this opportunity. Thank you to Chris Armstrong at Honda.
From the moment we met, David listened to my wants and needs and concerns. Kyle was thorough and patient answered all my silly questions at signing. I've had my car for almost a month and I'm still on cloud 9. When I needed help with pairing my phone, David was ready willing to assist. I know I can count on Honda whenever I need them!
David and Stuart were so helpful with the purchase of our vehicle. They really listen to what we were looking for in a car and help us find the best fit for our needs
We gave David a description of what we were looking for and he came through with the exact make, model and features we asked for. Being this was the second vehicle we have bought from him in the last 3 years we expected nothing less. Thanks!
David gullickson did an excellent job is kind considerate no pressure and very competent all of the staff we encountered or no pressure Pleasant people answered all of our questions I give them 5 stars without hesitation
This is a great dealership. Very proffesional and yet personable. David was great to work with. Very friendly and efficient. Very pleasant experience! Would recommend highly.
My experience with car buying has never been a pleasant one. David listened to me from the moment we met...never any pressure or rush or hassle. He is knowledgeable and patient. Kyle was also very helpful during signing and answered all my questions. I had fun buying my new car for once!
David was so unbelievably helpful in the process of finding a new vehicle. He answered every one of our questions, sometimes more than once, to ensure that we had all of the information we needed and were comfortable in our understanding. He was very understanding of our questions and trepidation in this new process. He listened to what we were looking for in a vehicle and gave us his honest opinions on the options available to us. I was beyond happy with my experience.
Our experience with both David Gulickson and Klamath Falls Honda was nothing short of "OUTSTANDING", from our first phone call to make an appointment with David to look at our new 2018 Honda Ridgeline to taking delivery was the best experience we have had in a long time. The experience gave the true meaning to Honesty, Integrity, and Professionalism. It has been a breath of fresh air. We have purchased many vehicles over the years from many different dealerships and we could not be more impressed with all the Klamath Falls Honda personal that we can in contact with from the Sales Manager to the detail attendant that really took care of all our needs. David Gulickson is an exceptional person with outstanding skills that made us very comfortable throughout the entire sales process. David is the kind of person we feel comfortable in give our trust. Thank you for the wonderful experience.

Welcome to Klamath Falls Honda
Car dealerships in Klamath Falls, Oregon are proud to offer a lot. However, if you're looking for a new Honda in Oregon, trust in the team at Klamath Falls Honda to steer you right… literally! Oregon Honda dealerships come in many forms, but few can offer the emphasis on customer service we have. We're ready to help you find your perfect Honda, new or used, as well as get it fixed. Ready to get started? Keep reading our website to learn about our vehicle selection or just drive from Medford or Grants Pass to Klamath Falls.
Customer Service is the Key
Whether you're looking for a new vehicle or a used vehicle, you want to be treated right as you come to the dealership. Thankfully, the team at Klamath Falls Honda is ready to take care of you from the moment you walk into our showroom. It's not just cordiality that makes our sales experience so special; it's also the knowledge of the Honda brand necessary to help you make a more informed buying decision. Thankfully, the experts at Klamath Falls Honda are ready to get you through the sales process so you come out of it with the vehicle you need.
Trust Our Maintenance Expertise
Honda is known the world over for being one of the most reliable brands in the automotive world. However, even the intricately crafted Honda vehicles need to be regularly maintained. Thankfully, you've got the team at Klamath Falls Honda helping you when it's time for automotive maintenance. Our experts are certified by Honda itself to deliver top-level care for routine maintenance and tough jobs. Be sure to schedule your service and peruse our service specials!
We're Ready to Help in Klamath Falls!
If you're in Ashland, it's not too far a drive to get to Klamath Falls Honda. We'd love to get you the vehicle you're looking for or get your Honda repaired. Contact us today or check out our About Us page!
Get Directions To Klamath Falls Honda